Calling SERVPRO To Handle Water Damage To A Grocery Store In Glendale Helps You Avoid These Issues
3/5/2018 (Permalink)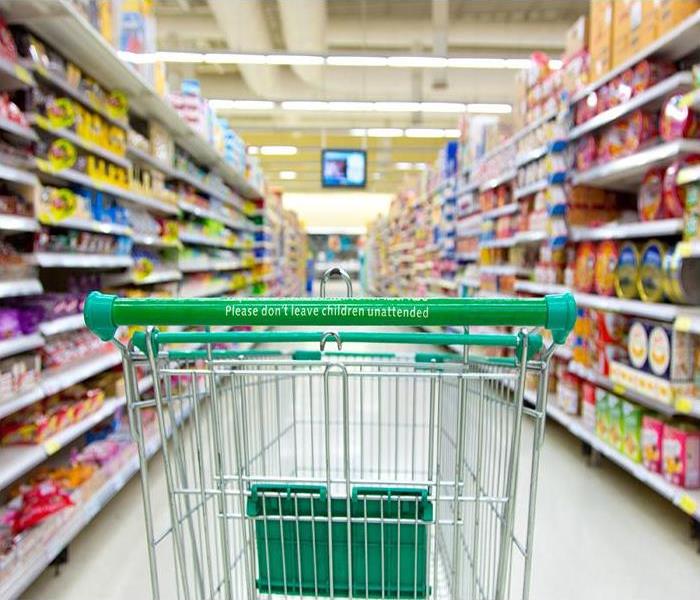 Water damage, even in limited intensity and scope, can be a significant detriment on your profits and future outlook.
Calling SERVPRO To Handle Water Damage
If left unrepaired, water damage to your grocery store in Glendale could drastically reduce the number of customers coming in and even possibly shutter the store. Water damage, even in limited intensity and scope, can be a significant detriment on your profits and future outlook, and these effects only worsen as time goes on. Calling a company like SERVPRO early on helps to keep your business running optimally and avoid many of these detrimental effects over time.

Worsened Public Perception
One of the most challenging effects of grocery store water damage in Glendale to detect is public reaction. While it may be clear how people perceive more severe disasters such as floods or fires, smaller issues such as leaks and pipe breaks can also negatively impact public perception of your business. If a customer notices a leak coming from a ceiling or wall even once in your store, he or she may be unlikely to return to what is now seen as a run-down establishment that does not care for maintenance. If the leak persists over just a few hours, this negative impression may be left on hundreds of individuals. Call SERVPRO as soon as you identify the problem to keep your store shining in the public eye.

Accruing Costs
While most cases of water damage are relatively easy and inexpensive to clean up and repair early on, they can quickly develop into problematic and costly thorns in your side. Even a small wet spot on a ceiling or wall can develop into a significant mold problem within only a day or two. Be proactive in tackling these issues to prevent them from growing worse.

Partial or Full Closures
While it may be difficult to allow the business to close doors for a short period to allow us to conduct necessary restorations, that period can become far longer if you wait to solve the issue. As the situation grows more complicated and damage sets in, it becomes more difficult for us to reopen doors quickly and minimize your profit loss. To keep doors open and your business alive, do not be afraid to close them first.

SERVPRO of Eagle Rock / South Glendale provides fast, priority care to local retail stores to ensure their survival in the face of a water disaster. Call us at (818) 244-6005.
Click here for more about Glendale.