Cleaning Mold Damage from Highland Park Homes
1/25/2018 (Permalink)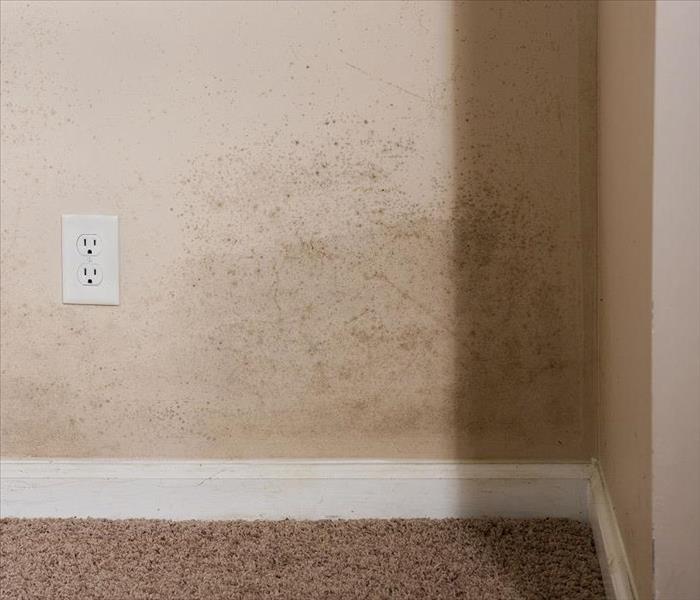 If mold is concentrated in one area or room, SERVPRO will seal it off to prevent the mold from spreading to other areas of the home.
SERVPRO Follows EPA Guidelines to Remediate Mold Damage in Your Home
Most Highland Park residents first notice mold from its distinctive odor. Not every type of mold gives off an odor though, so the spread of mold spores often goes unnoticed until it has grown to a point where it becomes a threat to the home.
To combat Highland Park mold damage, SERVPRO uses three primary EPA guidelines: Clean and dry moldy materials, discard items that are not cleanable, and dry non-moldy items within 48 hours. These precepts serve as the basis for our cleaning and removal procedures.
The initial procedure is to determine the size of the growth and find its source. We can accomplish this with an inspection of the common areas most conducive to mold growth: Bathrooms, crawlspaces, laundry rooms, and under kitchen sinks for example. In addition to visual inspections, we can also use air content meters to look for the highest concentration of airborne mold spores inside the home.
If we find the mold concentrated in one room or area, we isolate it from the rest of the home. SERVPRO technicians accomplish this procedure with plastic sheeting to seal off all points of access. That includes the heating and air vents, which also prevents accidentally spreading mold through the air ducts.
Now, we can begin the cleaning procedures. Our technicians use cloths and sponges on dry, powdery mold spores that rest on top of surfaces but have not penetrated into them. If the mold level is very thick, we can use vacuums with special filters designed to trap even tiny amounts of mold spores. These HEPA filters are very effective against the dry and wet mold. With wet mold, we can also use a cleaning agent to break up mold, separate the growth from the surface, and use sponges or cloths to wipe it off.
Next are procedures for removing property. Once it is mold free, we can remove it to either a mold free location in the home or to temporary storage to dry and wait until we finish remediating the home. If the items are very wet, we can set up air movers, fans, and dehumidifiers to carefully speed up the drying process and remove water from the property. For items we cannot clean, our technicians can dispose of according to state and local regulations.
Cleaning and restoring a home after any disaster is time-consuming and often frustrating for homeowners. If you are dealing with mold, contact SERVPRO of Eagle Rock / South Glendale at (818) 244-6005. We are here to help you return to a clean, safe home as quickly as possible.
Click here for more information regarding Highland Park.