Fire Damage in Highland Park can Affect Your Home's Security
4/11/2017 (Permalink)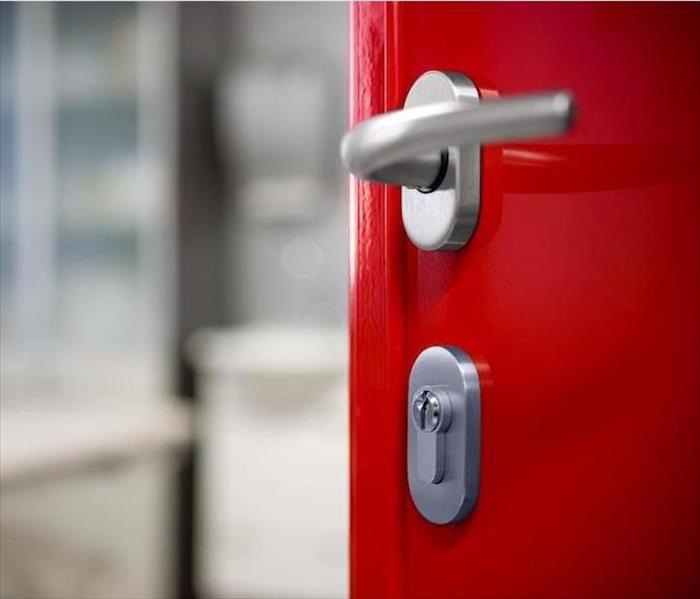 Making sure that you can get in and out of your home by checking how doors close and even lock is crucial after a fire damage event.
SERVPRO Technicians Thoroughly Assess the Damage After a Fire in Your Home
One thing about house fires that is true in almost all situations is that some damage is not as visible in some parts of a home as it is in others. Some damage is in the loss of utility. A door may seem undamaged, along with its frame, but after a fire, no longer open and close correctly. Windows can also be affected this way. Heat and moisture from fighting that fire can cause wood to swell. Even after remediation has been completed, small things like this can pop up.

Situations that affect a Highland Park area home's level of security after fire damage has been remediated still needs to be remediated. Security needs to be restored. These types of fire damage-related issues can appear weeks or months after a fire. Having a situation such as this develop does not mean that the remediation immediately after a fire was unsuccessful. Wood that expands can become more porous, which in turn allows more moisture in the future to be retained, leading to swelling.

Restoring openings to your home that have become impossible to close and open correctly and quickly pose risks to your security. Intruders can gain easier access, and in the event of another disaster, leaving your home might be more difficult, resulting in the loss of precious seconds when they count the most.

Many locks on the market today are made of highly durable plastics. While these are suitable to keep out most burglars, the plastic components can melt during a fire. Some of these locks remain functioning for a while, but then stop working and fall apart internally. If this is the case in your situation, replacement of the lock is a simple enough process.

We can repair these conditions and restore the safety your family deserves. Working to restore homes of our neighbors, family, and friends, we know a safe and secure feeling is important to every family. SERVPRO of Eagle Rock / South Glendale can help you with the latent and hidden effects of fire damage. No matter when you need us, we are always available at (818) 244-6005.