Keeping College and Business Offices in Eagle Rock Operational Through Water Damage Restorations
1/11/2021 (Permalink)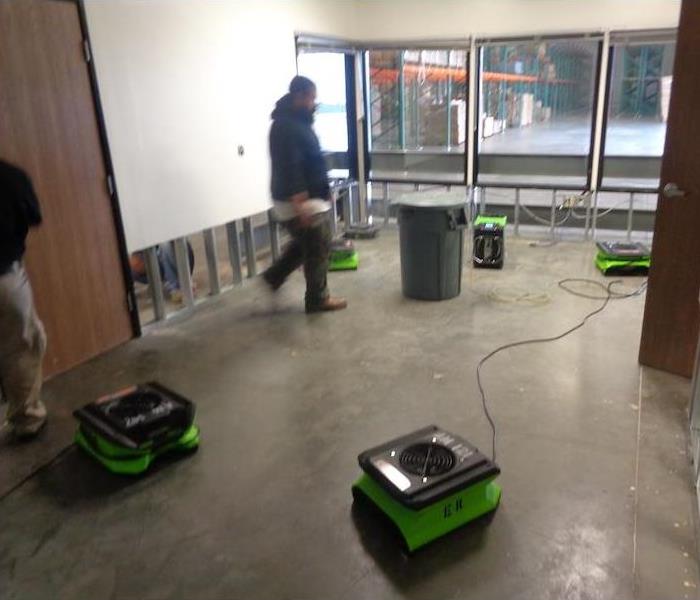 Call a licensed and certified provider for your water damage business. SERVPRO technicians have the experience and know how for the job.
Bumps in the Road that Shaped Eagle Rock's Occidental College
One of the most important institutions in Eagle Rock is the internationally recognized Occidental College. Founded in the late 19th Century, the College soon shed its religious affiliation and dedicated itself to becoming a stronghold for academic minds. Over the next century, Occidental would develop a reputation for excellence, but not before hitting a few speed bumps along the way.
The first significant obstacle in the institution's journey came in 1896, less than a decade after its founding when the original college building burned to the ground. For a nascent university without a large dowry, this could be a story-ending situation. Fortunately, the local St. Vincent's College (now Loyola Marymount University) had recently relocated and left behind an aging but capable building. This building served Occidental for the two years it took to fund and construct a new campus in Highland Park.
In 1912, as the college staff and students prepared to change campuses to the Eagle Rock location we know today, the board of trustees attempted to make a controversial decision: they wanted to convert the College into an all-male institution. This effort provoked widespread outrage among the students and faculty and was abandoned. However, the board tried again in the following year, garnering negative attention from newspapers nationwide. Once more, the effort was nixed, and Occidental continued its longstanding efforts to produce strong female graduates.
These events would be the last major challenges to Occidental College's rise, but a few more eras proved to be defining in its history. During the Vietnam War, Occidental was the site of one of the most notable divides between political groups, with peace advocates and ardent military supporters often butting heads among both students and faculty members. Around the same time, the College undertook efforts to improve its ethnic diversity, garnering the ire of anti-integration activists of the time.
Today, Occidental College remains one of the top private universities in the country, with notable alumni that include former President Barack Obama. Its presence brings culture and business to our community that elevates it as one of the most shining examples of Los Angeles living.
How Eagle Rock Students Fit into the Film Industry
Throughout much of Eagle Rock's history, students and entrepreneurs have traveled here to get started in the film industry. With such proximity to Hollywood's ancient studios, we have always had close ties with that particularly well-known part of Los Angeles.
Even the earliest Hollywood films pulled talent and scenery from our community. One of the primary resources used by the studios was Occidental College. Already well-established by the time the motion picture industry began taking shape, studios employed many student actors and writers from Occidental in the early days of film. Parts of the College feature in some silent films and have continued to show up throughout the years.
More recently, Eagle Rock's streets have become a staple in films and television shows set in urban environments. From the local high school to small corner stores, many places have been featured as one-off and recurring locations in major films like Top Gun and popular television shows like Glee. As always, the student actors of Occidental College continue to feature in small roles throughout these productions. Now, on top of its impressive academics, the College holds a well-deserved reputation for helping young talent get started in the industry.
Early Architecture in Eagle Rock can Still be Seen Today
Have you ever wondered what Eagle Rock looked like a century ago? Nationwide, very few buildings remain from early 20th Century cities since the properties experience such high demand that they are repeatedly rebuilt. However, in Eagle Rock and especially Occidental College, people can still experience rare early architecture in 2021.
Most of the buildings used on the modern Occidental College campus were designed and built early in the 20th Century. The initial plans were laid in 1911 by famed architect Myron Hunt, who sought to recreate a classical Mediterranean plaza. The stylistic choices used here include:
Light stone walls and columns
Colorful tiled roofs
Stone walkways
Ample landscaping and gardens
Another peek into the city's past can be found at the nearby Los Angeles Police Museum. This building, built in 1925 as a local police station, houses many exhibits of LAPD through the years. It is currently closed, but the building itself stands out on its street.
How SERVPRO Helps Prevent Water Restoration from Interrupting Eagle Rock Offices
For many businesses in Eagle Rock, one of the main reasons not to call in professionals for water damage mitigation is to avoid a temporary closure. Closing up most or all of the building can mean a loss of profit severe enough to prevent re-opening. We understand this dilemma and can usually accommodate your workforce throughout the restoration process.
Most water damages are localized to a specific area. In these situations, we may temporarily close off the affected rooms, but most of the building should remain unaffected. In cases where a large office floor has been affected, such as from an overhead sprinkler, we can cordon off the damaged area and keep most of the office space intact. Small water damages that would not disrupt your normal operations include:
Bathroom flooding
Water line leaks
Windows left open during a storm
Oxidized metals and other effects of humidity
Some difficult situations, such as flooding or a blaze extinguished with fire hoses, may damage the entire office space. In these cases, a full closure of the premises for a few days is often unavoidable. After the initial damage mitigation has finished, we can complete the restoration work one room at a time. Thus, with only a few temporary changes, your office space can be back in business within days of a disaster.
SERVPRO of Eagle Rock / South Glendale is a licensed and certified provider of water damage restoration services for offices in Eagle Rock. Contact us at (323) 255-1000 for quotes and emergency services.