We Just Had Flooding From a Storm in Eagle Rock, How Can I Clean it Up?
5/17/2020 (Permalink)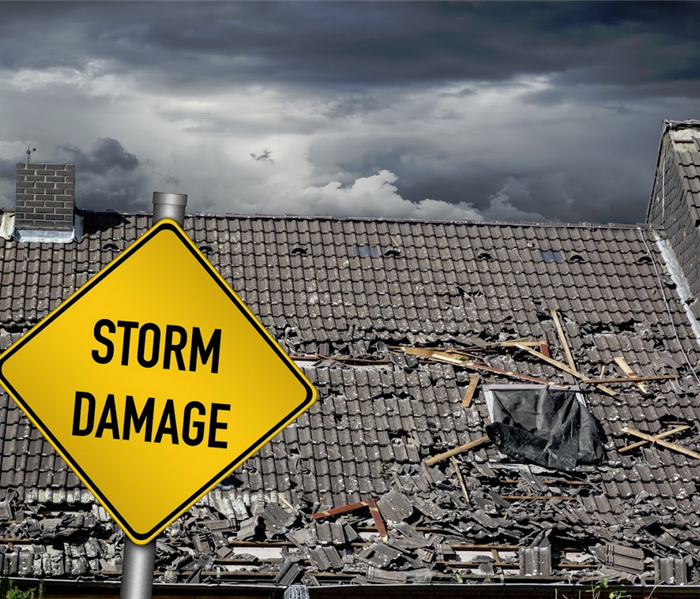 Make sure that your storm damaged roof does not allow additional water to gain entry into the home. Contact SERVPRO right away.
Flood Damage is No Match for our Skilled Team at SERVPRO, Call Us to Restore Your Eagle Rock Home!
During or after a storm in Eagle Rock, flooding can send water throughout your interior in several ways. Water could breach the roof, come into openings at doorways, or push through your main level. It is imperative you seek the assistance that you need fast so that you can stop the water from migrating into other areas. This is where our team at SERVPRO can spring into action once you call to deploy a crew to your property.
What Determines the Level of Damage with Flooding?
If flood damage in Eagle Rock is present after a storm, there are several ways that it may impact your property. These factors generally include:
Any access points where the water made its way inside
The total volume of the water involved in your flood loss
The length of time that your property and belongings have been saturated or submerged
Looking at all of these factors, it is easy to see why proper assessment of the incident is imperative. This allows our skilled water restoration technicians (WRT) to formulate the best strategy for safely and efficiently removing water and facilitating the drying process within your Eagle Rock home.
What Has the Biggest Impact on My Home During a Flooding Incident?
While each flood incident remains unique, the water volume and how long it remains in the home plays a significant role in the level of damage. This is why our skilled crew works as diligently as possible to extract standing floodwater, thus helping to minimize impact wherever possible. Immediate water extraction may not always be possible, which is why we do a thorough evaluation to determine the best measures to take. Some of the reasons that extraction could get delayed include:
Floodwater located outside your home has yet to recede.
The potential for causing additional damage when starting too soon.
Issues with finding the right point of disposal.
There are times when the removal of stormwater or flooding can have harmful effects. For example, if your home happens to have a basement, removing water too quickly can destabilize the walls of the foundation.
The removal of interior water before the area surrounding your home sees a recession of floodwater may not be feasible. The last thing any homeowner wants is for water to begin seeping back inside. In some situations, it is better to wait so that the groundwater outside has the chance to recede before extraction begins. Our skilled IICRC-certified technicians at SERVPRO know how to navigate all possible obstacles that might be in the way. For example, if the water outside has yet to recede, we take other measures to pack-out your belongings from the loss zone to keep them safe from water saturation.
How Long will Flood Removal Take?
There is no such thing as a cookie-cutter guideline for water extraction during or after a flood because each situation presents differently. Our trained crew has the experience, and we know how to adapt to provide you with the most realistic time estimate possible. We take into consideration a variety of factors, including:
All water intrusion points
The size of your property
Extraction equipment efficiency
The contents within your home
The larger your property or, the more rooms you have, the more potential there is for water migration. Additionally, significant contents like appliances or bulky furniture may hamper movement during the removal process, which might delay your extraction.
Why Do I Need SERVPRO for Flood Water Removal?
Our level of preparedness for flood damage situations is unparalleled. We have worked on countless flooding incidents and a variety of water damage jobs that have given us the experience necessary to get your job done as quickly and efficiently as possible. Our skilled crew knows the best ways to tackle a variety of tasks that could pop during the restoration. We know the right steps to avoid them while also eliminating unnecessary delays.
Our crews come equipped with a range of extraction equipment to handle any water extraction challenges
We can remove high volumes of water as well as detect hidden areas of moisture that could harbor mold growth
Standard equipment on our Green Fleet includes specialized cavity extractors like our Injectidry system as well as truck-mounted extractors with the ability to pull hundreds to thousands of gallons of water from your home
In some instances, controlled demolition is necessary to ensure all damaged building materials get removed from your home. Flood cuts may be made several inches above the waterline or vent holes get punched into the walls to allow water to escape the cavity for adequate drying. All of this gets wrapped up with new materials for a finished look, and your entire interior is thoroughly cleaned, sanitized, and deodorized to make it like new again.
To have a crew deployed to your home to assess flood damage, call SERVPRO of Eagle Rock/South Glendale today at (323) 255-1000.