SERVPRO Has Your Back When It comes to Your Home & Fire Damage
5/20/2019 (Permalink)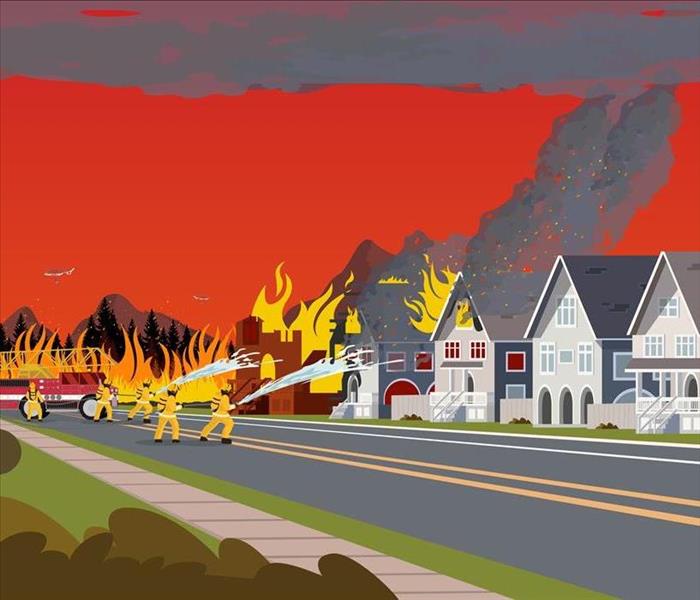 We know a house fire can be devastating and that's why we work around the clock to get you back in your home as quickly as possible.
Professional Fire Damage Remediation Expectations in Glendale
Recovering your sense of calm and security after a household fire in Glendale is far easier when you partner with our highly-qualified team. Professional remediation starts with a comprehensive assessment by an experienced project manager followed by the creation of a plan that addresses all aspects of your particular fire scenario. Rapid deployment of our Institute of Inspection, Cleaning and Restoration Certification (IICRC)-trained crews ensures all tasks are completed efficiently and in compliance with the fire restoration industry's best practices.
The first step in nearly all fire damage abatement jobs in Glendale is water and chemical removal. Firefighters do not hold back when knocking down a blaze, but the resulting watery mess needs a full-service recovery company to deal with water damage and applied structural drying before turning to the cleanup of fire residues, charring, and odors.
SERVPRO technicians hold one or multiple certifications from the IICRC including Water Damage Restoration Technician (WRT), Fire and Smoke Restoration Technician (FSRT), and Odor Control Technician (OCT). Mastering the coursework and then putting theory into practice under the watchful eye of more experienced mentors on our team delivers successful outcomes for our valued customers.
After water loss abatement, our SERVPRO crew members use techniques, tools, and products matched to specific types of soots for appropriate remediation. Dry, ashy residues vacuum or dry sponge away. Stickier soot deposited by electrical fires or slow smoldering fabrics might need the application of cleaners with wetting agents and surfactants and controlled agitation to loosen and remove.
Protein-based residues from food and grease fires often require a solvent and abrasive tools for best removal results. SERVPRO employees also work carefully to remove light to moderate charring of surfaces, saving more structural components and fixtures than you might have believed possible when you first surveyed the fire damage.
If thorough cleaning and the removal of charred remnants do not deodorize your home thoroughly, SERVPRO employs advanced technology to eliminate odors. We try different approaches until the odor abates, including thermal fogging and hydroxyl generators. These strategies change the chemical composition of the airborne and settled odor-bearing particles lingering, neutralizing the unpleasant stench permanently.
SERVPRO of Eagle Rock / South Glendale invests in both the training of a top-notch workforce and the acquisition and maintenance of efficient fire damage remediation equipment to return your home to preloss condition. Call us at (323) 255-1000 immediately after the firefighters leave to get your recovery rolling.
For more on Glendale, click here.