SERVPRO is Equipped to Restore Your Flood Damaged Glendale Home
12/28/2018 (Permalink)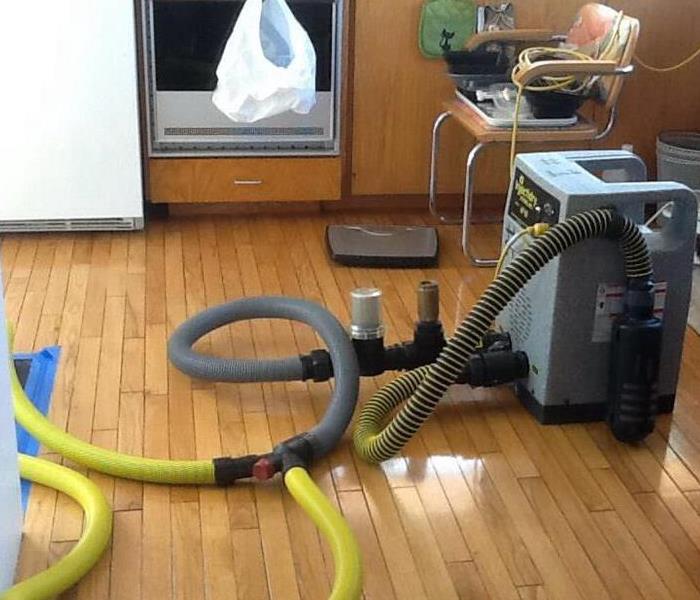 Floodwater contaminates all surfaces in kitchens. Call SERVPRO to assist you with getting your kitchen back to cooking!
Why SERVPRO Uses Air Scrubbers During Flood Damage Mitigation in Glendale
When Glendale property owners find their home or condo taking on water, the first thing many do is place their most valuable items on upper levels of the home. Relocating possessions can protect items that a person can easily carry, but other items, like appliances and furniture, can pose a more difficult situation, both during the flooding incident and afterward.
There are a few reasons why SERVPRO uses air scrubbers during any work involving mitigation and cleanup of flood damage in Glendale. The multitude of bacteria, viruses, and other microbes that enter a home during a flood often multiply rapidly afterward. Within 24 to 48 hours, microbes like mold and mildew can become visible on walls and other areas of the home. These diverse microscopic organisms can cause unwanted health effects in people and pets. The use of HEPA filters on our air scrubbers eliminates these from your property, providing adequate protection from any airborne microorganisms.
Our air scrubbers clean the air, which can hold any microbes that entered the air as the floodwater evaporated. We also must prepare other areas of your home by ensuring they also become clean again, "Like it never even happened." During the other aspects of our flood damage mitigation, we use in-house cleaning agents explicitly developed for eliminating pathogens on surfaces.
Countertops, tubs and sinks, glass doors and affected windows, and concrete areas can all retain enough moisture to keep microbial populations viable. Cleaning these with plain soap or detergent and water might permit many of the hardier microbes to survive. We use more effective cleansers, coupled with highly effective cleaning techniques, to remove them from surfaces.
Removing as many potential pathogens as possible becomes crucial in kitchens and bathrooms. Kitchens can become affected by pathogens from any food in refrigerators or freezers that thawed and began decomposing after the flood. Even canned goods can become compromised during such an event. While not capable of making anyone ill unless consumed, we dispose of all these food items for our customers and provide a complete listing of the loss. We want to work with you and your family to help you recover as quickly as possible after flood damage.
SERVPRO of Eagle Rock / South Glendale can be reached at (818) 244-6005 after your property becomes affected by flood damage. Our specialized teams have IICRC certifications in the fields of mitigating such damage from your home and making things safe again.
Click here for information about Glendale.